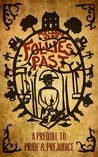 Follies Past: a Prequel to Pride and Prejudice
by
Melanie Kerr
My rating:
4 of 5 stars
Follies Past starts about a year before the beginning of Pride and Prejudice, with the Bingleys spending Christmas at Pemberley.
It follows Georgiana Darcy and her schooldfriend Clare Langford as they arrive in London, meeting among others Caroline Bingley.
We are also introduced to Lord Ashwell, Colonel Fitzwilliam's elder brother, Mrs. Younge, and Wickham; as they converge on Ramsgate.
View all my reviews