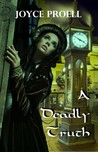 A Deadly Truth
by
Joyce Proell
My rating:
4 of 5 stars
Although Doyle Flanagan's wife committed suicide, society in Chicago 1881 has decided he is guilty of causing her death.
As Cady Delafield goes looking for one of her missing students she finds her dead in the home of Flanagan. But Cady begins to believe he is being framed just as she starts to have feelings for him.
We have mystery, romance and I really enjoyed reading this NetGalley free book. Intending to read the next in the series.
View all my reviews