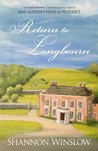 Return to Longbourn: The Next Chapter in the Continuing Story of Jane Austen's Pride and Prejudice
by
Shannon Winslow
My rating:
4 of 5 stars
This is my first sequel to Pride and Prejudice by this author that I have read and I really like the style. Mary Bennet is now in her late twenties, and with her sister Catherine they are still unmarried.
Mary has been working as a governess to the new family at Netherfield for four years. It starts with the death of Mr. Bennet and the arrival of the new heir Tristan Collins from America, (Mr William Collins having died).
Will Mary continue to be happy as a governess or does she wish for love - this is her story.
View all my reviews