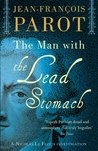 The Man with the Lead Stomach
by
Jean-François Parot
My rating:
4 of 5 stars
The book has been translated from the French and is the second of a series in the historical mystery genre. It is now 1761 and Commissioner Nicholas Le Floch is asked to investigate the apparent suicide of the Vicomte Lionel de Ruissec.
In this story we have complex, convoluted plots and political intrigue, which I enjoyed. I also liked the main characters involved in solving the mystery.
I shall probably look out for the first book now.
A NetGalley Book
View all my reviews